Milwaukee Computer Support Over the Phone - Buy Remote Milwaukee IT Support
At iNET we value each and every customer. No matter how simple or difficult your needs or how much you know or don't know about computers or web sites you will be treated respectfully and your needs will be resolved in the shortest timeframe possible. iNET guarantees your complete satisfaction!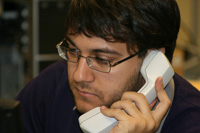 Milwaukee Computer IT Support
iNET customers enjoy an unprecedented level of support. A call to iNET for Milwaukee IT support is answered within two rings by a live human being right here in southeastern Wisconsin. From our perspective, being transferred to the Middle East or Asia for help on your Milwaukee computer support is unacceptable. Equally unacceptable is being forced to work through the maze of an automated phone answering service only to be put on hold to wait for the, "Next available associate."
Milwaukee IT Support at iNET PC Sets Gold Standard for Quality Customer Service
As an iNET customer you become a member of the iNET family. You are free to walk in the front door of our Waukesha computer store or call on the phone anytime. As an iNET customer you have friends in the computer industry. iNET customers are encouraged to develop relationships with the people that built and support their computers.
Every individual at iNET is part of a team dedicated to making sure your computers or websites do exactly what you want and need them to do. No other Milwaukee PC store offers the expert service and personal attention of iNET PC. Support at iNET is immediate and complete. You may call or walk in any time and have your questions answered immediately.
Southeastern Wisconsin Custom-Built Computers and Laptops Exceed Customer Expectations
With the purchase of iNET PC's Wisconsin custom-built computers, our skilled Milwaukee computer support technicians take the time to provide you with free computer training, data transfer, lifetime Milwaukee IT phone support and the gold standard in Wisconsin computer warranties. We offer Virtual Browsing on all computers we sell or service for optimal virus and malware protection. Don't cut your computer's lifespan short by denying the best internet browsing protection. Get the best malware protection and spyware removal to improve your computer's performance and longevity with iNET PC's Virtual Browser.
As an iNET customer you will understand what we mean when we say, "Experience the iNET Difference." The entire iNET team guaranties your satisfaction with every aspect of iNET Computers and iNET Web - "We are the best!"
Call 262.574.9400 or email sales@inet-pc.com and experience the iNET difference today!
If you need remote support, we can help! Check out our Milwaukee computer support page now.