Get the Best Custom Desktops and PC Accessories for Home and Business Applications
In a world of mass-production computers and outsourced tech support, one Milwaukee desktop store bucks the trend. We offer custom-built PCs backed by the best warranties in the industry, fast and simple computer upgrades, and an array of PC accessories. At iNET PC we dig down to the essentials to find you a PC you won't regret buying.
Endlessly Customized, Ferociously Optimized Computers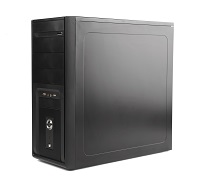 When you walk into or call our Waukesha PC shop looking for a new desktop, iNET's first question will be "what do you want to do with your computer?" INET personalizes all of our desktop PCs for their users, and we go all the way from customizing the hardware to pre-downloading and testing your preferred software.
Whether you're looking for Waukesha' best gaming rig or an easy-to-use business computer with an impenetrable antivirus, iNET has what you need, and we'll strip out the unnecessary software and hardware an off-the-shelf model would carry to save you money and speed up your PC. From a high-end Deep Learning A.I. build to a good word processor with a DVD player, no computer store will give you a better deal than iNET.
Easy Data Transfer, Training, and Software Downloads
INET makes the transition to a new PC a piece of cake. We offer free data transfer for videos, photos and important files to all of our custom PC builds, along with an hour of free training on your computer to make the transition to a new OS or software program as effortless as possible. INET also handles the installation and testing of whatever software you request. For nearly all of our PCs we recommend Microsoft Office, Kaspersky Antivirus, and Malwarebytes for home use, but iNET will install whatever specialized software you need on your PC.
Some iNET clients who just want a faster computer or one with more memory than their old model don't even need a new desktop. Our affordable computer upgrade services are a great way to improve the performance of an old computer.
The INET Difference in Tech Support
All custom iNET desktops come with a three-year part and labor warranty, the most comprehensive in the Milwaukee area. If your computer has any issues, we offer expert and free repairs by phone, remote access, or in-house. Don't expect to use our warranty often, though. Unlike cheaply made desktops from second-tier computer stores, iNET uses the most durable parts available and assembles them with unmatched expertise.
No matter your needs, your computer experience, or your budget, iNET PC has what you need. Our PC experts have been building better desktops for homes and businesses for years, and we'll build the custom computer that gets the most bang for your buck. That's the iNET Difference.
Contact iNET PC to learn more about our options for Desktop PCs, or to request a quote.