ioSafe NAS Hard-Drive Backups Protect Your Business Data from Fire or Flood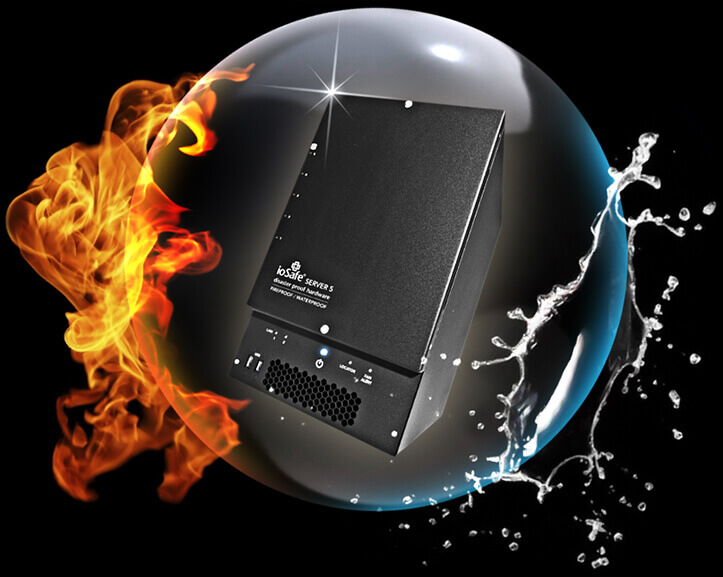 Losing data means losing business. Losing all your data could mean losing your entire business. Unexpected fire, water damage, or theft can spell the end for almost any company that relies on physical servers. Large corporations hire entire teams of business continuity planners to minimize their losses from fire and flood. But what small business could afford that? How do you protect your livelihood from natural and man-made disasters?
The IoSafe S5 network server backup provides the comprehensive, nigh-infallible data recovery plan big businesses work so hard to create for a fraction of the cost. An ioSafe server is like your office's airplane black box. IoSafe units aren't slowed by connection speeds and update schedules because they're physically connected to your server. Rather than trying to avoid disaster, ioSafe comes equipped to weather it. Fireproof, shockproof, waterproof, and theftproof, the ioSafe S5 will protect your data through an earthquake, riot, or apocalypse if necessary.
Setting up an ioSafe takes our Milwaukee PC technicians minutes. Once your ioSafe is connected, it will back up your network server data nonstop, guaranteeing you near zero data loss in the event of a disaster. Your ioSafe unit can restore lost data to your network in minutes, and it will continue to save and update your data even during internet failures.
Available in several sizes, ioSafe servers are the perfect affordable, low-maintenance, high-impact solution to business data continuity.iNET-PC strongly recommends ioSafe S5 units with all of our comprehensive network builds. For critical small business applications, we often use cloud data backup software in combination with an IoSafe unit for maximum protection. iNET also installs IoSafes as a separate service across southeast Wisconsin.